SUPPLY CHAIN RISK MANAGEMENT IN REALTIME

REALTIME ASSET MONITORING
REALTIME ASSET MONITORING
Monitor your assets, vehicles or machines worldwide and in real time for handling, motion and efficiency. Use our tools and analyses and optimize your processes.

SHOPFLOOR CONDITION MONITORING IN REALTIME
SHOPFLOOR CONDITION MONITORING IN REALTIME
Track and monitor your processes, products or tools on the shop floor and in production seamlessly and in real time. Check the efficiency of processes, the handling of objects and generate facts.
The solution
VIRTENIO offers you the PreonSolutions complete solution kit for end-to-end monitoring in real time. This offers among other things:
Autonomous measuring and uploading devices

Modular device combinations


KPIs such as ETA (Estimated Time of Arrival) and EQA (Estimated Quality of Arrival)
The advantage
Benefit from our professional and unique industrial solution and convince yourself of your advantages:
Long device running times


Worldwide radio connectivity


Statements on quality and punctuality
Your benefit
Reduce damage, inefficiencies, optimize product quality, and reduce unnecessary costs with better real-time decision-making

THE QUALITY PROTECTION KIT

.
The greatest successes come mostly from teams – as with our end-2-end monitoring solution. Protect your assets not only with the VIRTENIO Live Apps but also with the help of our robust, modular and durable monitoring devices, which are made for what they are supposed to achieve: Collect data where your valuable assets need to be protected – worldwide in your real processes. Put together your solution kit from the 3 components: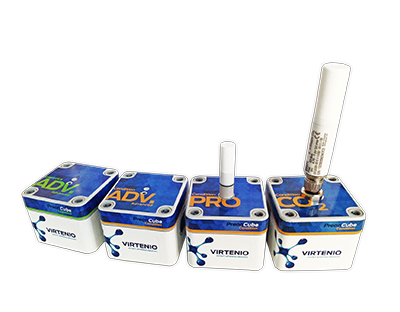 Component 1:
Radio multi-sensor cube
Use our self-sufficient radio multi-sensor cube, which you can also use as a logger, to record relevant measured variables directly on the asset or the goods.
Use directly on the asset

Long device runtime up to 4 years

Various measurands can be recorded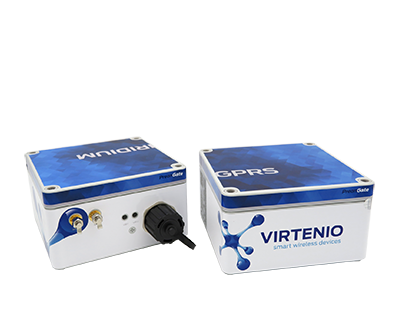 Component 2:
Self-sufficient radio gateways
Collect the measurement data of up to 50 PreonCubes with the wireless gateways from VIRTENIO and also capture location data via GPS and mobile radio.
Flexible use near the wireless multi-sensor cube

long device running times up to 12 months

Location data via GPS and GSM

Worldwide mobile radio or satellite communication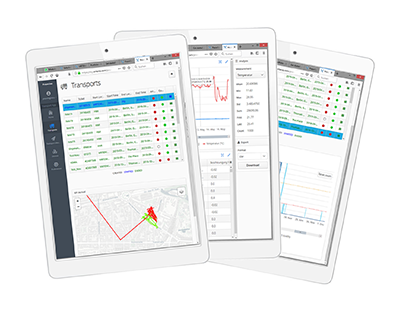 Component 3:
Cloud Analytics Plattform
Check the live measurement data, analyze the data streams and get KPI based real-time recommendations for action in your dashboards.
KPIs for easy decision support in dashboards

ETA (Estimated Time of Arrival) and EQA (Estimated Quality of Arrival)