Measuring cube with remote temperature sensors for monitoring temperature at two different measuring points
Mobile, self-sufficient radio measuring point with remote sensors

Simple determination of measured values, intermediate storage and radio transmission (min. 128 bit AES encryption)

Convenient measured value analysis and data export in the PreonLive online portal

Runtime up to 3 years with lithium-ion battery

Modular compatibility with all Virtenio Cubes and Gateways

Robust housing (IP65) with pressure compensation valve

Compact dimensions of 65 x 65 x 57 mm (L x W x H, without sensors)

Acquisition of 2x temperature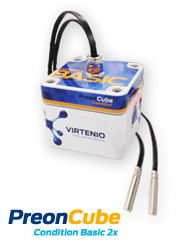 Description
The PreonCube Condition Basic X2 is a wireless radio measuring device with two external temperature sensors. Due to its compact design and battery operation, the Cube is very well suited for autonomous monitoring systems or difficult to reach environments. Depending on the selected measuring interval, the Cube with its two sensors records exact temperature data at two different locations. This makes it ideal for measuring the flow and return temperatures of a system. Depending on requirements, it transmits these measured values at customer-specific intervals and a suitable radio protocol to other measuring points or directly to radio gateways. From the optionally available gateways, the data is transferred to the PreonLive online portal where it can be analyzed and exported. This allows you to monitor your remote PreonCubes from any PC, smartphone or tablet with Internet access and have an overview of their local environmental conditions at all times.
Two remote sensors are used to record the temperature data. The sensors are equipped with a metal protective cap that conducts the temperature to the sensor. The length of the cables is variable.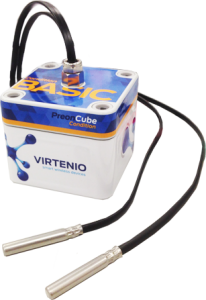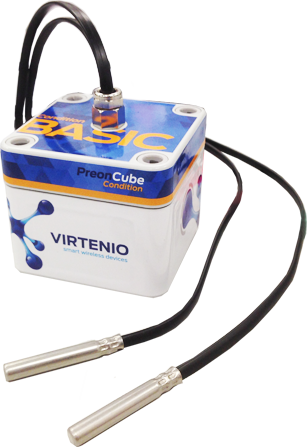 Applications
Areas of application: Plants and systems for measuring two temperatures (e.g. flow and return temperature)

Monitoring, detection, control and alarming

Spot checks or long-term measurements
Product request
Interesse an diesem Produkt?
Kontaktieren Sie Virtenio um mehr Informationen zu erhalten oder um das Produkt zu bestellen!
Tagesaktuelle Preise sendet Ihnen Virtenio umgehend zu.
Product request
Are you looking for another PreonCube?