Wireless signal light for displaying measuring ranges. Measuring ranges and states are clearly visible via the 3 colours red, yellow and green.
Local display of a measured value from a PreonCube

Colour representation of CO2 or humidity, for example

Adjustable limit range for the individual luminaires

Flashing signal lamps when there is no connection to a PreonCube

Wireless communication with a PreonCube to separate both devices locally

Power supply via power supply unit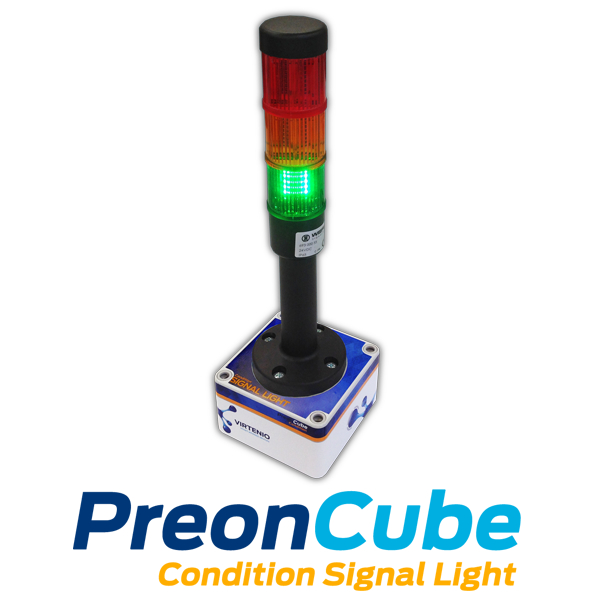 Description
The PreonCube Signal Light (traffic light) is an optional extension to the PreonCubes. The traffic light locally displays a specific measured value in three different colored categories. The representation of the colors can deviate from the representation in the on-line range and react delayed. The traffic light can be used as an indicator when it makes sense to reduce the CO2 content in a room, for example, by ventilating and opening a window. Measuring ranges for the individual color categories can be configured.
Technical data
General information
Dimensions
X x Y x Z mm (L x W x H)
Weight
X g
Case
polycarbonate
Safety class of case
IP64
Safety class of power supply
IP40, Use only in dry indoor areas
Power supply
Power supply from 230V alternating voltage to 24V direct voltage
Signal lamp
3 colours: green, yellow, red
Radio communication
Radio frequency
2,4 GHz
Radio standard
IEEE 802.15.4
Range (up to)
outdoor 300m / indoor 30m
Security
at least 128 bit AES
Radio protocol
IEEE 802.15.4 (P2P); 6LoWPAN with duty cycling (via SW update)
Radio channels
16
Product request
Interesse an diesem Produkt?
Kontaktieren Sie Virtenio um mehr Informationen zu erhalten oder um das Produkt zu bestellen!
Tagesaktuelle Preise sendet Ihnen Virtenio umgehend zu.
Product request
Are you looking for another PreonCube?