Communication between data sources and cloud
Matching the Virtenio Cubes, we offer gateways that store your measured values locally as required, make them available via an existing Internet connection or transfer them to your web account at any location via mobile radio. This gives you the possibility and freedom to view your monitored locations or processes 24/7 via web browser at any time. The PreonLive portal gives you the opportunity to view, analyze and export your data.
Connection between PreonCubes and PreonLive Portal

Secure radio transmission (min. 128 bit AES encryption)

Modular compatibility with all PreonCubes

Robust and designed for industrial use

Battery operated, long life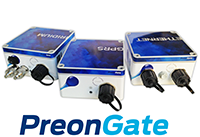 Product comparison
Applications
Supply Chain Risk Management
✔
Realtime Asset Monitoring
✔
Shopfloor Condition Monitoring
✔
—

Place of use

At the cargo
✔
In container (20 feet / 40 feet / reefer)
✔ / ✔ / ✔
In a truck (cab / trailer)
✔ / ✔
In a freight wagon
✔
Location tracking

by Cellular Technology (GSM)
✔
—
by GPS-Technology (GPS / GLONASS)
✔ / ✔
by Satelite-Technology (Iridium cell)
—
✔ [*]
Place of connectivity [*]
In the building
✔
In the countryside
✔
In container
✔
In the harbour
✔
Sites without telecommunications infrastructure (sea / desert / rainforest / polar region)
— / — / — / —
✔ / ✔/ ✔/ ✔
Connectivity
2.5G
✔
—
Iridium
—
✔
System
Battery / rechargeable
✔ / ✔
Protection class
IP65
[*] For the PreonGate Iridium Gateway, the external Iridium/GPS antenna must have clear view to the sky.
Selection of available gateways
Interaction with a magnet
Due to the industrial suitability, we did not use buttons or switches in the design of the gates. This makes the gates particularly robust and avoids the risk of unintentional deactivation. As an alternative, we have come up with the interaction with a magnet.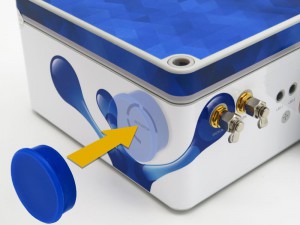 Optional Data Forwarding
With all PreonGates there is the possibility of data forwarding to the customer. Data forwarding is optional and can be set up on request. Various interfaces are available. Data encryption can be done via SSL or AES.
Virtenio brings your sensor data wireless to the cloud!
With Virtenio PreonSolution we have the right complete solution for your demanding monitoring needs. No matter whether logger, wireless logistics monitoring or remote building monitoring – with the mobile and radio-based PreonCubes you can record measured variables such as temperature, relative humidity and illuminance, CO2 concentration, acceleration or air pressure at hard-to-reach locations without existing infrastructure.
PreonCubes
Matching radio multi-sensor cubes
Matching the PreonGates, we offer you self-sufficient radio multi-sensor cubes that can record measurement data directly on the asset, on the goods and distributed at different positions of your shipment. They measure temperature, relative humidity, relative illuminance, air pressure, CO2, 3-axis acceleration and thus position as well as shocks depending on the device variant.
PreonCubes