Get the best out of the data!
VIRTENIO offers you the cloudbased VIRTENIO portal PreonLive to match your PreonCubes and PreonGates. Receive relevant information, insights and decision support. Check live measurement data, analyze data streams, and get KPI-based real-time action recommendations. Benefit from the VIRTENIO PreonLive Apps. No matter of shipment monitoring, asset monitoring or shop-floor control – use our live portal, PDF reports and email alerts. Take off!
Product comparison
Application
Access method
Browser
E-mail
PDF
Representation
real time, historical
real time
historical
Storage location
Cloud
Mailbox
File
Quality protection
Mold
✔
✔
✔
Corrosion
✔
✔
✔
Dew point
✔
✔
✔
Intrusion
✔
✔
✔
Punctuality
Current position
✔
✔
—
Pathway
✔
—
✔
Data sources

Access to real-time data
✔
✔
—
Access to historical data
✔
—
✔
Export (CSV / XLSX / GPX)
✔ / ✔ / ✔
—
—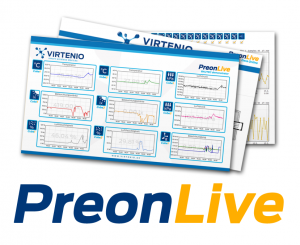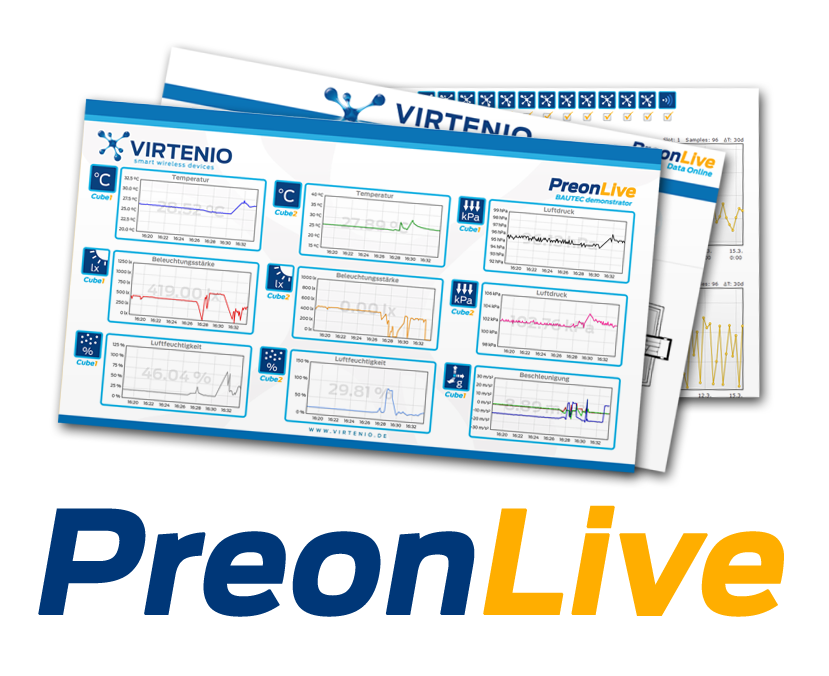 PreonCubes
Matching radio multi-sensor cubes
Matching the PreonGates, we offer you self-sufficient radio multi-sensor cubes that can record measurement data directly on the asset, on the goods and distributed at different positions of your shipment. They measure temperature, relative humidity, relative illuminance, air pressure, CO2, 3-axis acceleration and thus position as well as shocks depending on the device variant.
PreonCubes
PreonGates
Matching radio gateways
Matching the PreonCubes, we offer you self-sufficient radio gateways that collect the measurement data of up to 50 radio multi-sensor cubes and transmit them wirelessly to the cloud via worldwide mobile radio or satellite communication, as well as recording location data via GPS or mobile radio triangulation.
PreonGates