"Use of measurement technology for recording and monitoring environmental parameters in museums and collections", Berlin Senate Administration and ESF, 2014-2015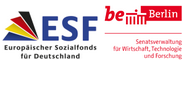 The joint practical project with the Hochschule für Technik und Wirtschaft Berlin (HTW) deals with the recording and monitoring of environmental parameters in museums and museum collections. The current topic focuses on relevant measurement parameters, such as air temperature and relative humidity, which were previously only collected with hand-held measuring instruments or data loggers.
The wireless measuring systems adapted to the specific needs of museums in the project will be tested with the HTW's Conservation and Restoration / Excavation Department and will offer an innovative web-based live data view in addition to higher accuracy and finer measuring cycles. This makes it possible for a team of experts to identify harmful environmental conditions immediately from a distance or by means of automated analysis and to remedy them promptly.
As a result, measuring instruments evaluated according to conservational requirements, extensive data sets and well-founded experience in handling the measuring instruments are expected. The project, funded by the Berlin Senate Department for Economics, Technology and Research from the European Social Fund (ESF), will end in May 2015.
Based on the findings of this project, the product PreonArt was derived, which provides valuable knowledge in the field of art and helps to prevent damage to art and cultural assets. Together with the PreonLive Portal, you gain insight into the environmental conditions of your assets and can see at any time whether they are in an optimal environment.
Project partner
Virtenio GmbH
University of Applied Sciences Berlin